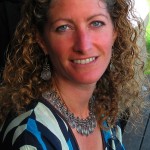 Jennifer Berlingieri (M.A.) is a Creative Arts Therapist and Artist, originally from New York, who's been based in Melbourne, Australia, since 2001. She facilitates workshops, groups, and private sessions in order to inspire personal growth and change. She has been using the arts in therapy in organisations, mental health facilities and in private practice since 2003. She has a wide range of experience using Art Therapy and Dance/Movement Therapy in diverse client settings:
mental health
drug & alcohol
eating disorders
anxiety and depression
trauma
gambling
bushfire recovery
aged care/dementia
palliative care
homeless
youth
Jennifer has a private Creative Arts Therapy & Counselling practice in Melbourne, suitable for anyone seeking deeper self-awareness and wellbeing. As well as working in her private practice, Jennifer is also on the academic staff at MIECAT, where she teaches and supervises students pursuing the Masters in Therapeutic Arts Practice. In addition, Jennifer has been employed by The Melbourne Clinic, the largest mental health hospital in Australia, to facilitate Art Therapy, movement therapy and psycho-educational groups for both inpatients and day patients.
Jennifer's passion for Creative Arts Therapy has grown out of her own life experience of using writing, visual art and dance as methods of inner exploration and self preservation. Her years of extensive travel and living in numerous countries have assisted her in developing an open, accepting and multi-cultural view of working with a wide variety of people.
She has completed a Master of Arts in Creative Arts Therapy at MIECAT, Melbourne, with a focus on how the use of the arts in therapy can assist people in accessing their intuition, empowering themselves, and transforming their lives.
Jennifer is a current member of the Professional organisation ACATA (Australian Creative Arts Therapy Association).